And at the end of the day, your feet should be dirty, your hair messy and your eyes sparkling. – Shanti
Den Blick auf die Weite des Ozeans gerichtet, lasse ich mir die unzählige Eindrücke der vorangegangenen Tage unseres USA Road Trips durch den Kopf gehen. Das Zitat ist mehr als passend für die Freiheit und das Abenteuer das wir erlebt haben – und meine Augen zum Funkeln gebracht hat.

Aufgenommen wurde das Bild am Big Sur ("Großer Süden"), einem sich über ca. 100 Kilometer ziehenden Küstenstreifen im US-Bundesstaat Kalifornien zwischen San Simeon im Süden und Carmel im Norden. Die schroffe Felsküste und die hohen Berge vermitteln auch durch die geringe Siedlungsdichte einen starken Eindruck von unberührter Natur und ist damit ein Anziehungspunkt vieler Touristen die entlang des Küstenhighways No. 1 durch Kalifornien reisen.
An der Big-Sur Küste findet man auch einige kalifornische State-Parks (Julia Pfeiffer Burns State Park oder der Pfeiffer Big Sur State Park), die zumeist durch einsame Buchten mit schönen Sandstränden bestechen.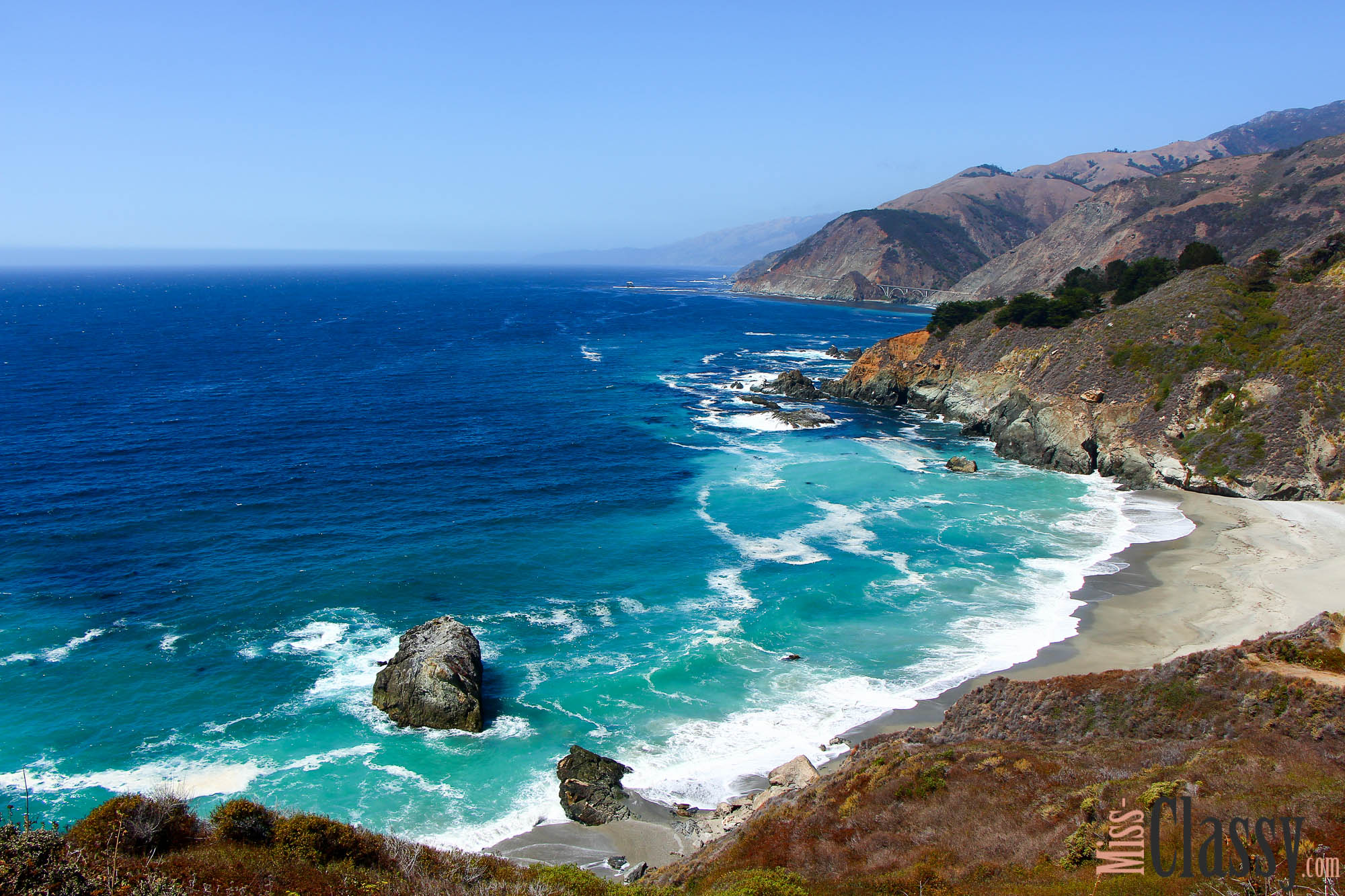 Fotoequipment
Die Fotos auf unseren Reisen entstehen mit einer Canon EOS650D bzw. unserer GoPro Hero3+ Black Edition. Verstaut wird das Ganze in der QE800 Quick Escape Toploader Kameratsche von Crumpler. Man hat damit einfach und schnell Zugriff auf die Kamera und die Tasche sieht zudem noch stylisch aus. Weiters ist immer noch ein Akku-Pack für ausreichend Strom der Mobilgeräte  und der GoPro mit dabei.
Mithilfe des iPhones und der App GeotagPhotos nehme ich die GPS Daten auf und synchronisiere sie im Nachgang mit den gemachten Fotos und Videos. So kann man seine Reiseroute toll darstellen und sieht jederzeit die Aufnahmeorte.
Einen Überblick über die komplette Route unseres Roadtrips findest du hier:
Weitere Artikel über unsere Reise an der Westküste der USA:
Viva Las Vegas
Whale Watching in Monterey
Grand Canyon
Antelope Canyon, Horseshoe Bend und Lake Powell